Hello Wood Fired Friends!  Sorry to have been M.I.A. for a while.  Life has been crazy for us…from a trip to the beach, a new job for me, middle school starting and a broken computer for a couple of days!  I feel as though my life is a blur and my passion for writing has been swallowed up with change.  But I am back and ready to fill you in on all things wood fired that have been happening in our world.
Despite the fact that the weather here in Phoenix is hot, humid, and generally dreadful, the Fanatic household has been dreaming of watching a crackling, swirling fire…in our pizza oven.  I know, this is completely insane, right?! The right tools can make the process faster and much more efficient.  These are the tools that have helped us endure having pizza on weeks like these: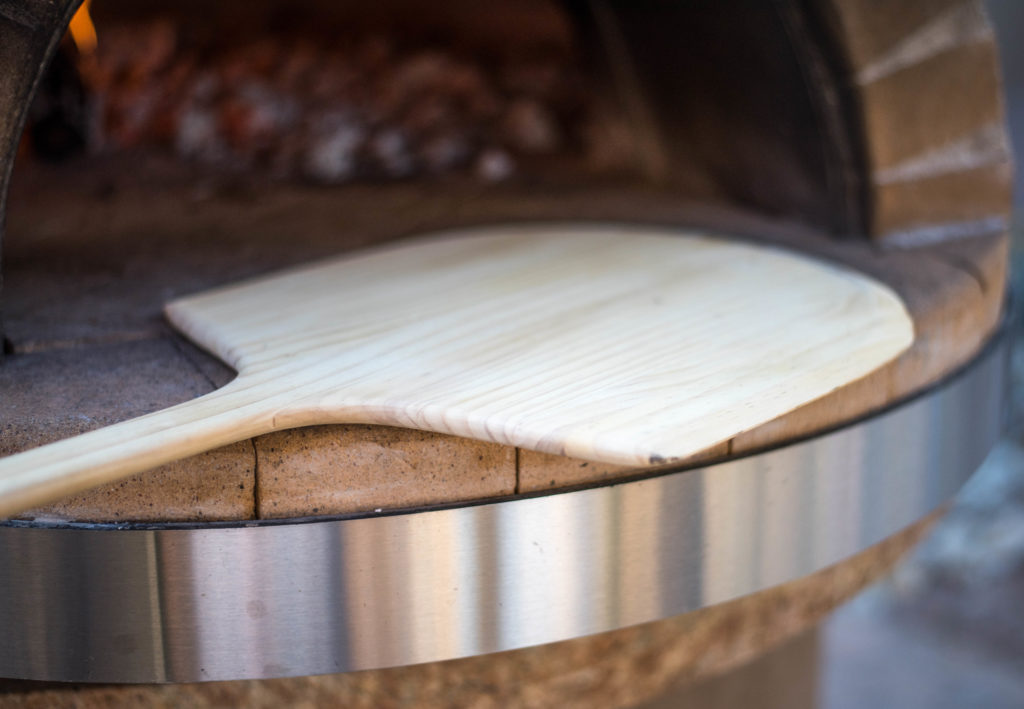 Wooden pizza peel with long handle: This is the first of three peels that we use during our pizza evenings.  This peel is a must have for delivering your pizza to the awesome fire which will cook your pie to chewy, crunchy perfection.  After turning out the dough, build the pizza on the wooden peel for ease of release. There is significantly less chance of your pie sticking to wood than metal.  This reduces your chance of a mangled pizza disaster on your oven floor.  Your wooden peel should be slightly larger than your average dough turned out and slightly smaller than the mouth of your oven so it fits inside easily to launch the uncooked pizza onto the cooking surface. We love this peel so much we have ordered two from Amazon. But buyer beware the most recent order took nearly one month to arrive.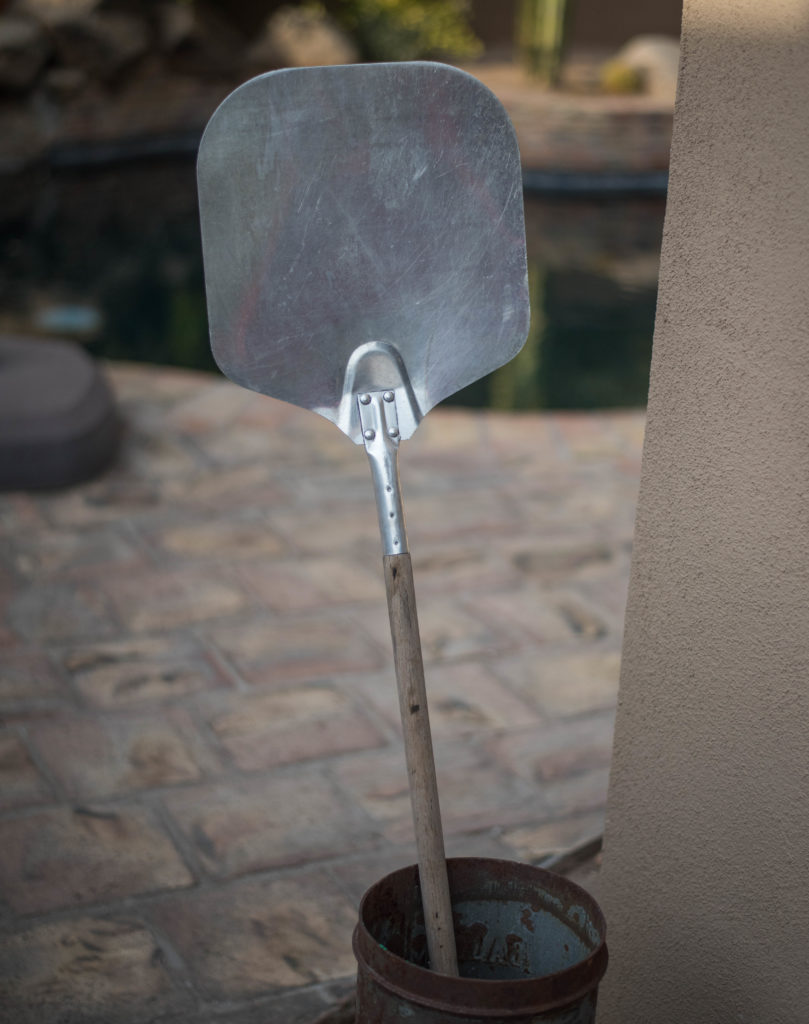 Metal pizza peel: Mr. Fanatic uses our metal pizza peel for a variety of tasks, including its intended use.  I see him using it to move ash off the cooking surface by slapping it on the floor of the oven. We use it to pull pies from the oven without fear of it catching fire and use it to transport pizza-liciousness all the way to the house.  Our peel is similar to this one found on Amazon.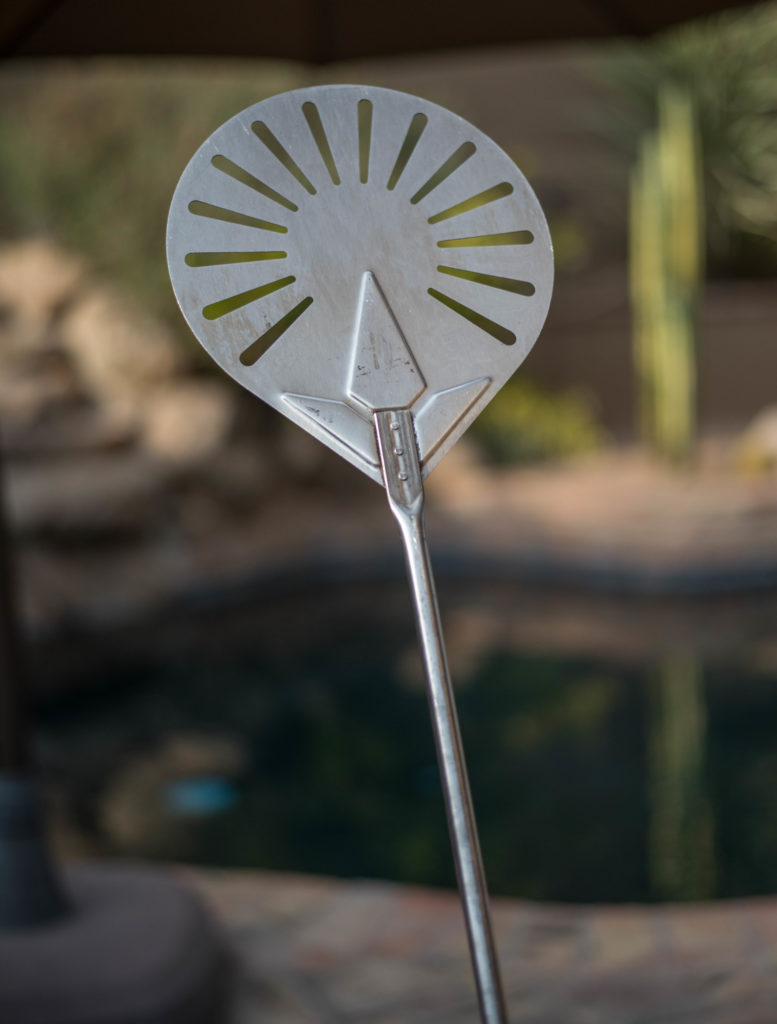 Perforated round metal turning peel: Although this is not required for a good pizza, it sure has made our lives easier.  The maneuverability with this tool is excellent.  You can achieve a more evenly cooked pizza with less effort when using a turning peel. Many companies sell them, however Mr. Fanatic and I cannot remember exactly where he ordered ours. However, this one seems very similar.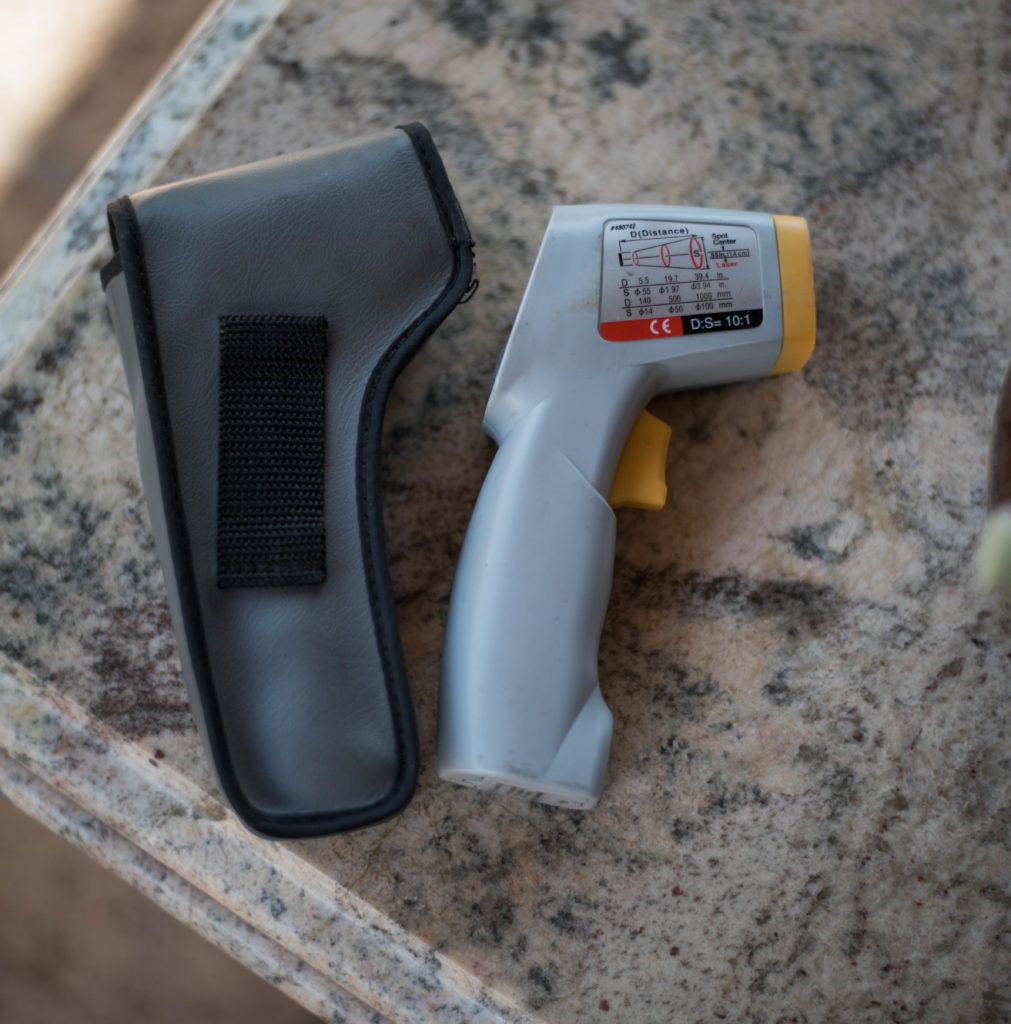 Infrared Heat Gun: This handy little tool will tell you the temperature in different parts of your oven. Many ovens have a thermometer on the door that gives you the ambient temperature inside the oven which is great, but the floor and dome will be completely different temperatures. A temp gun allows you to shoot an infrared light onto any surface in the oven and get an instant reading of how hot or cold that area is. (It is also great fun with your dog or cat as they will chase it forever if you shine it on the floor or wall.) As you can see our light is well loved (in other words we've owned it for ages) but you can find similar guns online.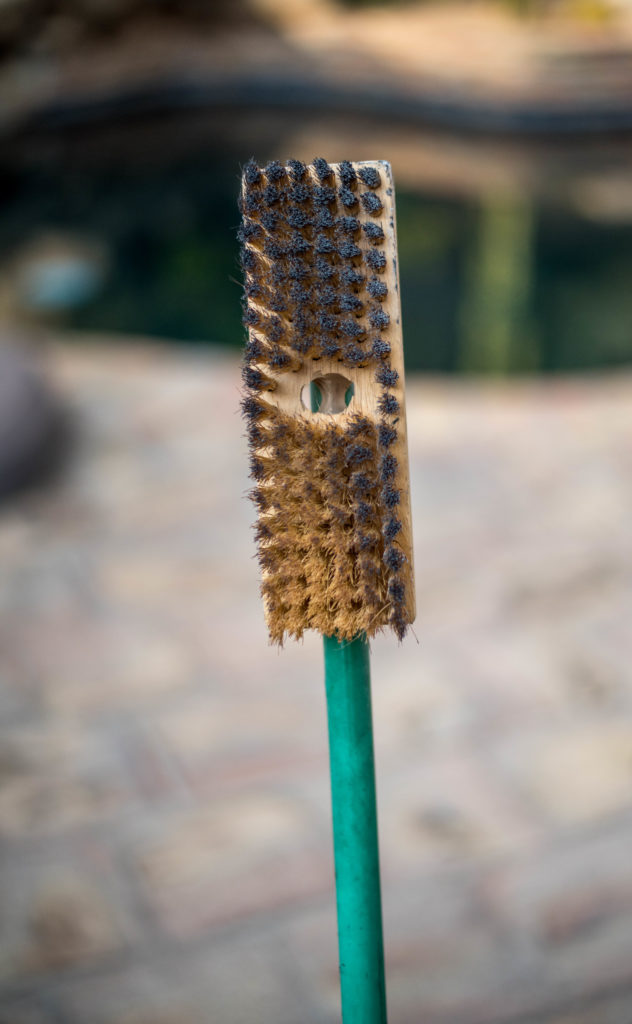 Deck brush: Let's face it the floor of the oven gets dirty. There is ash everywhere! How in the world are you going to clean it out? A deck brush is extremely useful. There are several manufacturers that will sell you a metal or natural bristle brush on a long handle to complete this task. After we installed our oven, and we began to discover just how many tools we "needed" and that many of them are a bit pricey (particularly when you are buying them all at once to get started). Mr. Fanatic decided to get thrifty and made his own. He found an old broom handle in the garage, bought a $4 natural fiber deck brush from the local hardware store and attached it to the handle with two drywall screws. Voila! Easy ash clean up for a tenth of the cost of many commercially available tools. Mr. Fanatic was also concerned about the use of brass bristles on the brick of our oven floor, so he opted for natural bristles.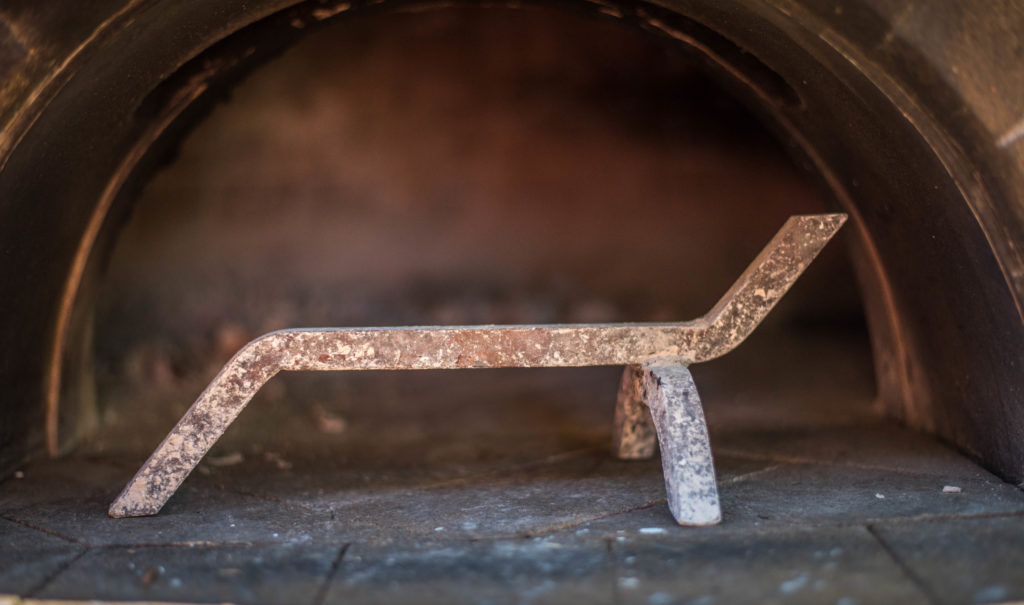 Log grate: Calling this one essential may be a bit of an exaggeration, however, it really truly makes corralling those pesky logs much easier while you are cooking. We did not buy this initially, but find it useful to keep food and burning wood where they belong. Our log grate came from Mugnaini.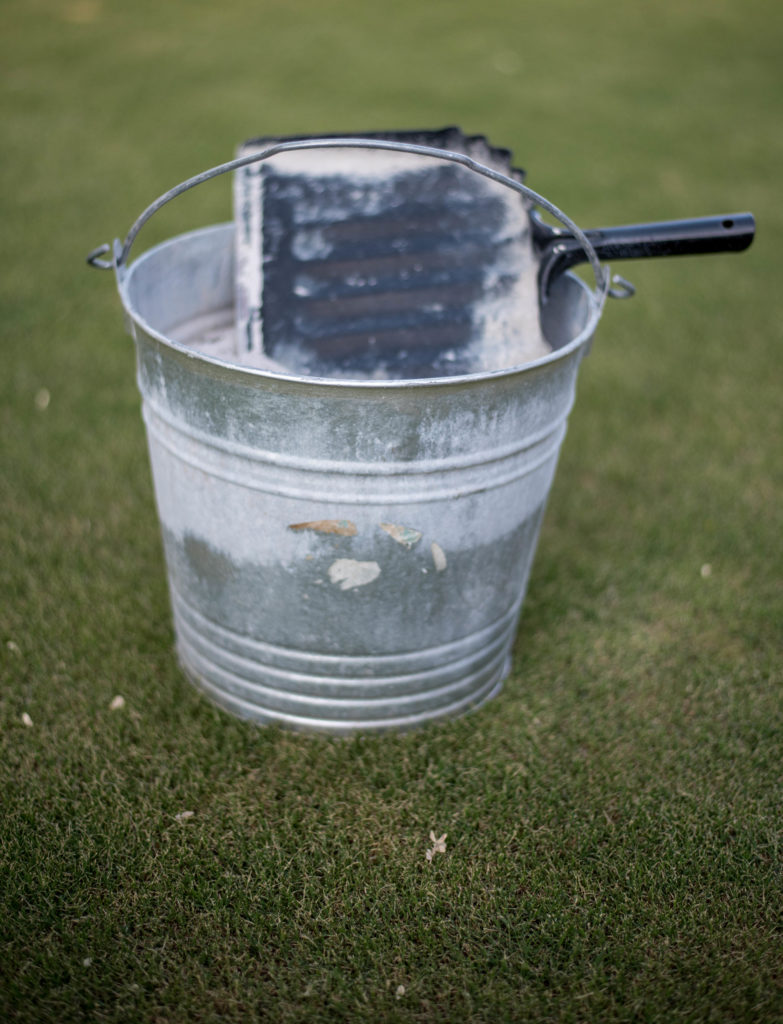 Metal ash bucket: A metal bucket, possibly with a lid, can contain hot coals that you have pulled from the oven. If you do not want to wait for the oven to cool completely, or if you are trying to pull heat from the oven while cooking, you can place hot coals safely in this bucket. Beware, the metal will be very hot so avoid touching it the contents have cooled completely. We picked this one up at the local hardware store.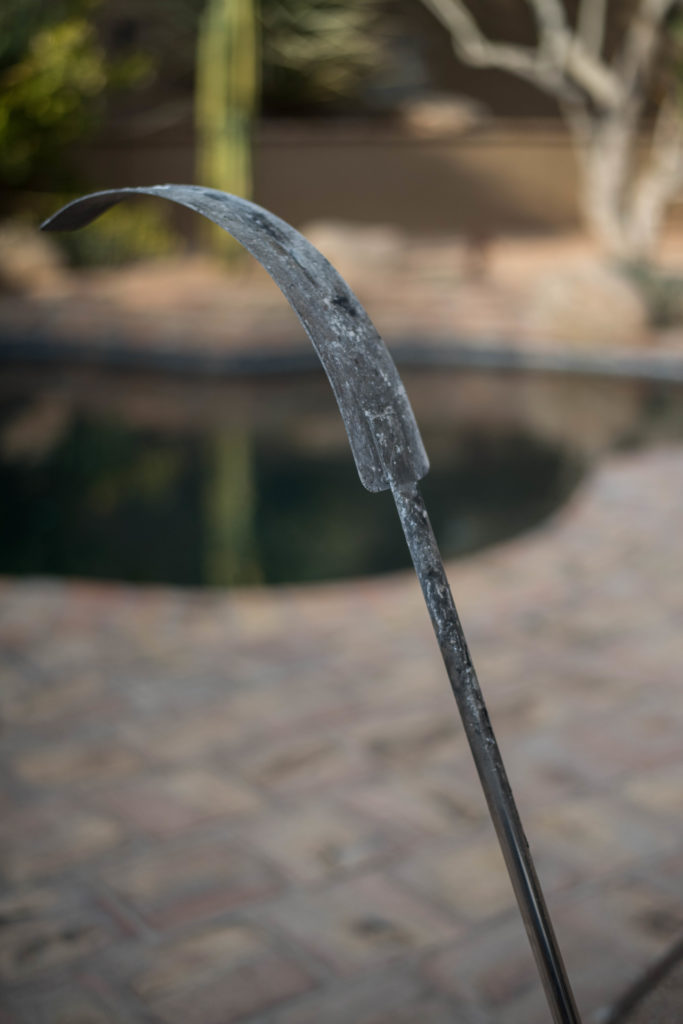 Ash rake: This another item that I am on the fence about calling essential.  It definitely makes life easier but I am quite certain you can make many delicious pizzas without it, we did for a quite some time. It seems that every time the oven is fired it is necessary to move the wood, coals and ash around on the floor of the oven. This is a great to accomplish that will minimal effort. We found our ash rake here on the Mugnaini website.
Whew!  I had forgotten just how many accessories it takes to get this pizza party started! Now that we have been doing it for so long, it is second nature to pull everything out and get ready.  I would love to know what tools you have found to be essential to making your pizza cooking process fast and easy.  Please leave them in the comments below and don't forget to like us on Facebook and follow on Instagram!